Today, I saw these two pics during my prep period.  Thanks to @web20classroom bit.ly/1Ud849b  and @RACzyz @ERobbPrincipal for these quotes.
I decided to write them on the whiteboard and see what happened. 
What happened was really interesting…
@web20classroom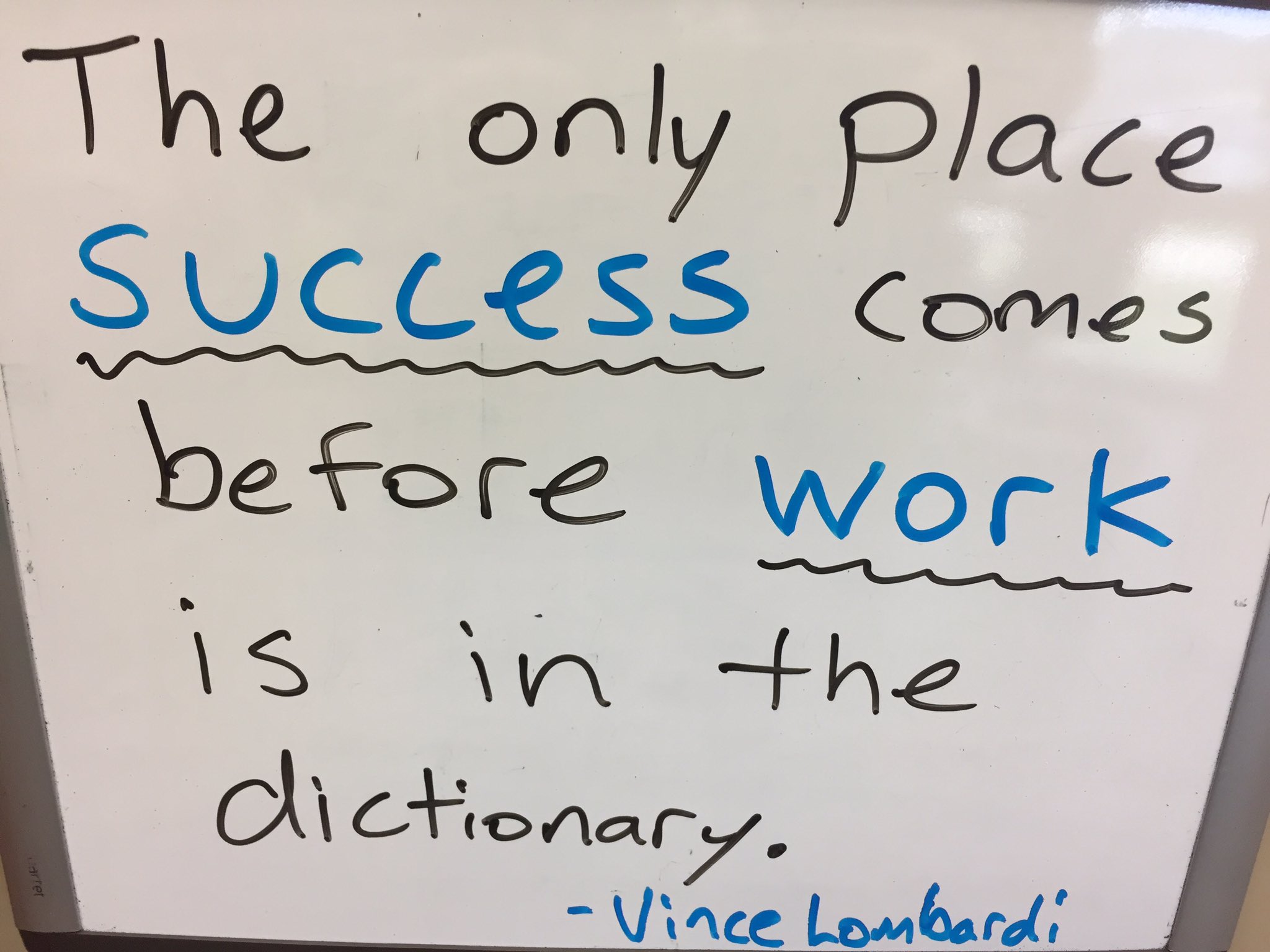 @RACzyz
Initially I had thought I would save the quotes for the next day but I was worried I might forget:) So I decided to write them on the board right then and there.  It might be seen by one class (my prep is 6th period and then I teach one more class before the school bell rings) but I was hopeful.
See…this class had struggled yesterday.  They were feeling tired after the weekend and out of their comfort zone because we were doing "CHOREOGRAPHY"! We had ended the class yesterday with a short, 5 minute, discussion on how the pattern we were seeing each day was making it so we weren't going to be ready for the concert in 14 school days.  We talked about how to overcome their fears and how each of them was important to the team. I hoped for the best for today.
I said nothing about the quotes on the board as they came in.  I just listened and watched.  Each student had their own response.  Some didn't notice anything.  Some glanced and kept moving towards their seat.  And then it happened.  I heard this small yet audible gasp.  I looked over to where it came from.  I found the source and loved the look I received.  It was as if a lightbulb had gone off in my student's head.  She was surprised but seemed excited. She even made a comment which to the effect that she loved the play on words. She had noticed the quote on success and it really resounded with her.  Once she noticed, more students noticed.  Then they noticed the other quote. It was so interesting to continue to watch their responses.  This only took a couple of minutes but I was truly excited for what I was seeing.
I asked them what they thought of the quotes.  This let into a short discussion (again only about 5 minutes as those seem to powerful time spans) into what we each thought.  The amazing thing was in the way that they participated today.  I still had one that was visibly tired and felt sorry and somewhat worried for him but even he still gave a lot.
We started where we last left off. They practice, they worked, they created success.  We were even able to continue to work so well that they finished the piece. This was something that didn't seem like it was ever going to happen.  It was complete turnaround.  We even reviewed the beginning of another piece and were able to add a new part to that one.  The new part REALLY took them out of the comfort zone but they did it and they did it well.
The things I have learned from my PLN on Twitter has been so ideal that I won't be stopping my learning any time soon.
I know there are many more quotes I have LIKED so I can have access to them and I know there are many more I will find but I am thankful for the quotes I saw at that moment. It changed everything.